As this finally gets purged from me, there are images that seemed burned into my soul.  Images that after 12 years are as real as if it was last Saturday.
My hope is that someday (sooner than later) this will be the result: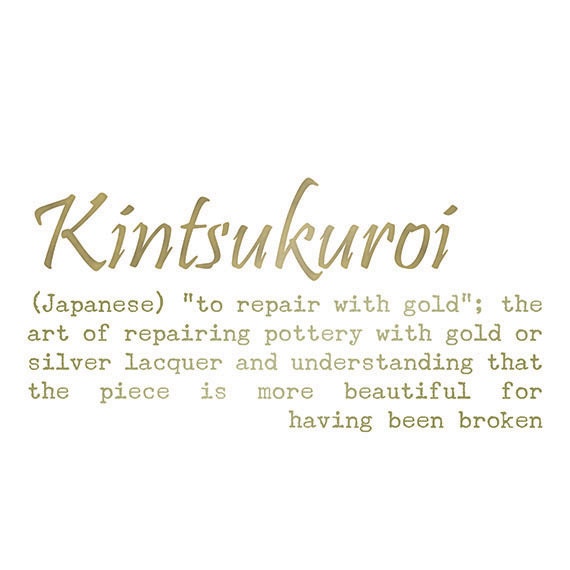 I went searching for my favorite Kintsukuroi image, and found one I've not seen before.  I believe it was brought to me right now on purpose by Someone who loves me more and in ways that I'm not even aware of, they're not in this realm.  My Father I thank you.  You are truly using this blog as a healing journey for my soul, my heart.
~~~
Sometimes the trajectory of your life is altered by circumstances you could not have imagined.  Getting back on course takes the strength of a few armies.
~~~
When I got back to my moms house after being gone all day so I could breathe, here is what I experienced.
The first image I saw was my oldest son (then 13) standing next to my sister with his arms rigidly folded across his chest and glaring at me.  My mom (and whoever else) was yelling and screaming at me, cussing me, calling me names, and accusing me of spending the day getting drunk and sleeping with a childhood friend.  My mom was screaming at me to get out of her house.  (I had stayed with her the days before dad passed and the 6 days before his funeral.)
At first I tried to defend myself, but no one was listening.  The screaming and yelling, cussing and name calling continued so I went in to throw my things in my suit case and leave.  My youngest son (then 10) was upset that I was leaving, not by my choice.  He had a cell phone I had given my sons for emergencies and I told him I would call shortly and that I would be ok.  My mother came in the house yelling and screaming to give her my house key and get out.  I tried again to explain, something, anything and to try and figure out what was going on, but like I said no one was listening and everyone was angry.
~~~
Now that I think about it, it's an excellent example of what happens when mob mentality takes over.  No one listens, and chaos ensues.
~~~
I left and went to the childhood friends house they had accused me of sleeping with.  The truth is the day was spent riding around in the mountains, period.  I had 1, that's ONE Bloody Mary.  That's it.
~~~
We're going to pause right here for a moment and look at some things.
I was accused of getting drunk and sleeping with a childhood friend.  Hmm, well, how come I wasn't staggering in drunk or even the slightest bit buzzed?  Also, I suppose you can sleep with someone on a motorcycle but I didn't.  He simply seemed to understand my need to be alone, and he left me alone in my own thoughts the entire day.   Again, no one asked me anything, but they assumed and accused me.
Let's rewind a little to the evening my dad passed.  The hospice nurse checked his vitals and confirmed that he had passed.  The nurse actually checked them twice, the 2nd time per my moms request.
After they took dad's body away I remember everyone being out in the back yard, except an aunt who had gone to bed.  I also remember almost everyone drinking, including my mom.  It felt to me like they were celebrating and they were glad he was gone.  It's not like dad hadn't given people plenty of reasons during his life to be glad when he was gone, but in my mind it was macabre.  It felt wrong.  I sat there completely sober and tried to be ok.  I'm sure everyone thought I was: like I said, I'm a recovering people pleasing enabler.  It was somewhere around 2, probably closer to 3a.m. when I finally went to bed.
On the day of the funeral after the dinner that evening, several family members, some family friends, and I went back to my parents house.  My mom rode with my sister and her husband, and they weren't back yet, so people sat out in the back yard and some in the house visiting.  While we were sitting there visiting, my mom went to a bar with my sister and husband and proceeded to get so drunk she was sick.  When they got back, they told one of my aunts she was just "sick".
The day after the funeral when I went to clear my head and drank one Bloody Mary, all hell broke loose because I was supposed to be back at a certain time and wasn't.
I guess it was ok to drink the day dad passed and get tipsy / drunk, and I guess it was ok to get so drunk you get sick the evening of the day of his funeral.  But the day after, I went to clear my head and had one drink and I'm ….. (lots of words).
Double standard anyone?
~~~
Before we continue the next part, I want to note something.  My sister and I have had countless conversations regarding the above and we both agree that at any given moment, mom could have "saved the day" had she simply told the truth.  But she didn't and consequently my actions deeply hurt not only my sons, but my sister and several family members.
We both wish we would have talked, it would have made all the difference.  We've mended our relationship and I believe it's stronger, deeper, better than ever.  Perfect?  No. But we're on a journey to excellence and maybe someday I'll convince her to have a blog or guest write on mine if I figure that out.  I also believe we've laid the gold in and it's settling in the cracks more beautiful than ever: